Africa
Intense Feelings – Beauty and Magic
Hardly any other continent in the world can match the unique appeal of the Dark Continent. It is assumed that Africa is also the cradle of humanity. It boasts a number of natural monuments, such as the mountain range of the Kilimanjaro, the endless plains of the Serengeti, Table Mountain and the 'greatest curtain of falling water' – the Victoria Falls. Ancient myths and legends are interwoven with the archaic land and to this very day spirits and ancestor worship play an important role in everyday lives.
Southern Africa is not worn out yet for brand events thus being the perfect location for mould-breaking events. The Southern African countries offer a vast variety of options to promote brands at events – events of this nature could not be carried out in other countries anymore.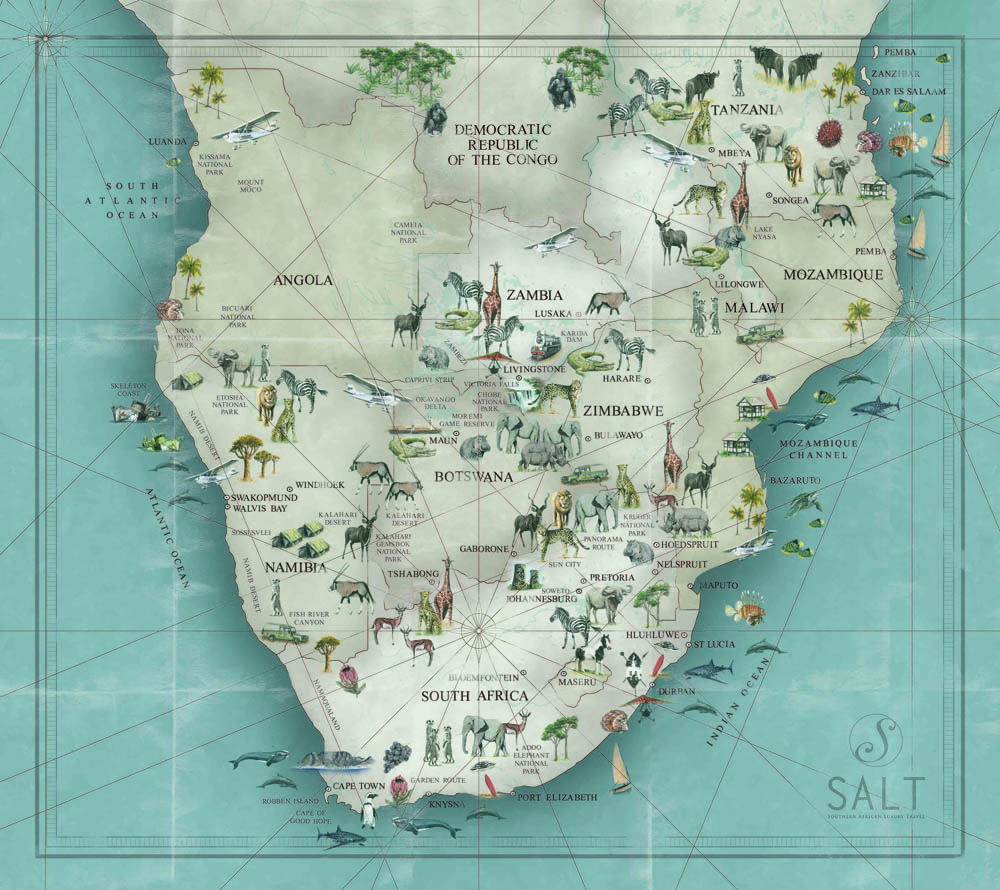 South Africa
South Africa is one of the preferred hosts for international conferences and company events in Africa. It offers breath-taking landscapes, a big variety of luxurious accommodation, superior cuisine, excellent (award winning) wines – and all of that at an affordable price.
Wildlife and nature, lifestyle and culture – hardly any other country can boast such a variety of options. South Africa is the perfect location for incentives: a reception on top of Table Mountain, a bush braai (BBQ) in Kruger National Park, an old-timer trip to the winelands, catching the perfect wave or a luxury chill-out at the Cape: whatever it is that you wish for or don't even know yet that you might wish for it: with South Africa you will create memories for eternity.
Jet lag? – Not when travelling to South Africa! South Africa Standard Time (SAST) is contemporaneous with CET (Central European Time). Despite the distance even short incentives will be enjoyed to the fullest.
Best time to visit South Africa: any time!
Getting there: daily direct flights (approximately 10 hours) from Frankfurt and Munich to South Africa (Cape Town and Johannesburg).
Time difference: CEST =/- 0, CET +1.
South Africa – a country of awe-inspiring beauty, extraordinary variety and full of exciting contrasts.

Namibia
The oldest desert in the world, the largest canyon in Africa, holy mountains, bizarre landscapes: Namibia – land of extremes, the discovery of which is an extraordinary experience.
Whether you marvel at the dunes from a birds perspective , explore Etosha National Park in a 4 x 4 or follow the spoor of the legendary desert elephants – Namibia offers the adventure of a lifetime.

Botswana
Whatever it is you might be dreaming of when you think of Africa: it is here that your dreams will come true.
Safaris, game drives, wildlife – natural wealth – that's Botswana. In the interior, in the middle of the Kalahari, the Okavango River empties into a swamp known as the Okavango Delta.
You might get lucky and spot the so-called Big Five: lion, leopard, buffalo, rhino and elephant. Best time for game viewing is early morning – quietly approaching in a mokoro (the canoe which is commonly used in the Delta) – an unforgettable experience, flanked by hippos and crocodiles.

Zambia & Zimbabwe
Zambia boasts one of the most spectacular natural phenomena in the world: The Victoria Falls.
Looking at it from the upper Zambezi it seems as if the river, which is, after all almost 2 kilometres wide at this spot, vanishes into the ground – leaving nothing behind but a giant cloud of fine spray.
Behind this cloud, however, Africa´s largest waterfall offers the most magnificent backdrop for scenic flights, rafting and bungee jumping. A must for every traveller!

Mozambique
Heavenly beaches, the sea with its turquoise colour and an underwater-world of lavishing beauty – not many will think of Mozambique when using such attributes; luckily so, because thus the country which is situated on the Indian Ocean has been spared by mass tourism.
Mozambique is one of the world's last untouched paradises with a handful of first class resorts – perfectly suited to round off an adventure holiday in Africa!

Tanzania & Zanzibar
Tanzania – savannah as far as the eye can see. 'Serengeti', a Massai word, translates into the endless land.
Being one of the largest and most famous national parks in the world the Serengeti is home to huge herds of wildebeest, zebra and eland and therefore an Eldorado for safaris, whilst the multiple islands of the Zanzibar archipelago will offer perfect relaxation.